Overview of Wilmington, NC Coin Buyer – How to Sell Coins in Wilmington
Thinking of selling coins in Wilmington, NC? 
Welcome to Wilmington, NC Coin Buyer.  I am a private coin collector in the Wilmington, NC area that specializes in gold coins and silver coins.  Although I have been collecting for over 20 years, it was only recently that I created this website.  All too often I have heard the stories of people going to coin shops, jewelry stores, auction houses, and pawn shops with amazing coins only to be offered pennies on the dollar.  All of these stores have high overhead and are looking for a profit.  Unlike them, I have zero overhead and typically don't sell the coins that I purchase.  I am simply a long time collector buying coins to hold and eventually pass down through my family.
Coins I Buy
I will purchase single coins, coin lots, and estates.  I travel often to view and buy coins throughout Southeastern North Carolina and Northern South Carolina.  These areas include Wilmington, Wrightsville Beach, Brunswick County, Raleigh, Pender County, Onslow County, and Myrtle Beach, to name a few.
Selling Coins in Wilmington
I have made selling coins in the Wilmington, NC area as simple as possible.  Simply fill out the Contact Form with your name and the best number to reach you at.  It helps if you also include a quick description of the coins that you have to sell.  Most of the time, I am familiar with the coins that you are selling and can give you an offer right away.  Although it doesn't happen often, there have been a couple times where I have to do my own research on the coins for sale in order to give you the fairest price possible.
The majority of coins that I buy locally in the Wilmington, NC area are gold and silver coins minted prior to 1965.  Those coins are typically: (1) Dimes; (2) Quarters; (3) Half Dollars; (4) Silver Dollars; and (5) Gold Coins.   A somewhat inclusive list of the coins that I am most interested in can be found on the "Coins I Buy" page.  Please keep in mind that I do purchase coins not found on that page.
Below are some examples of silver and gold coins that I regularly purchase:
Half Dollar Coins
Dollar Coins

Gold Coins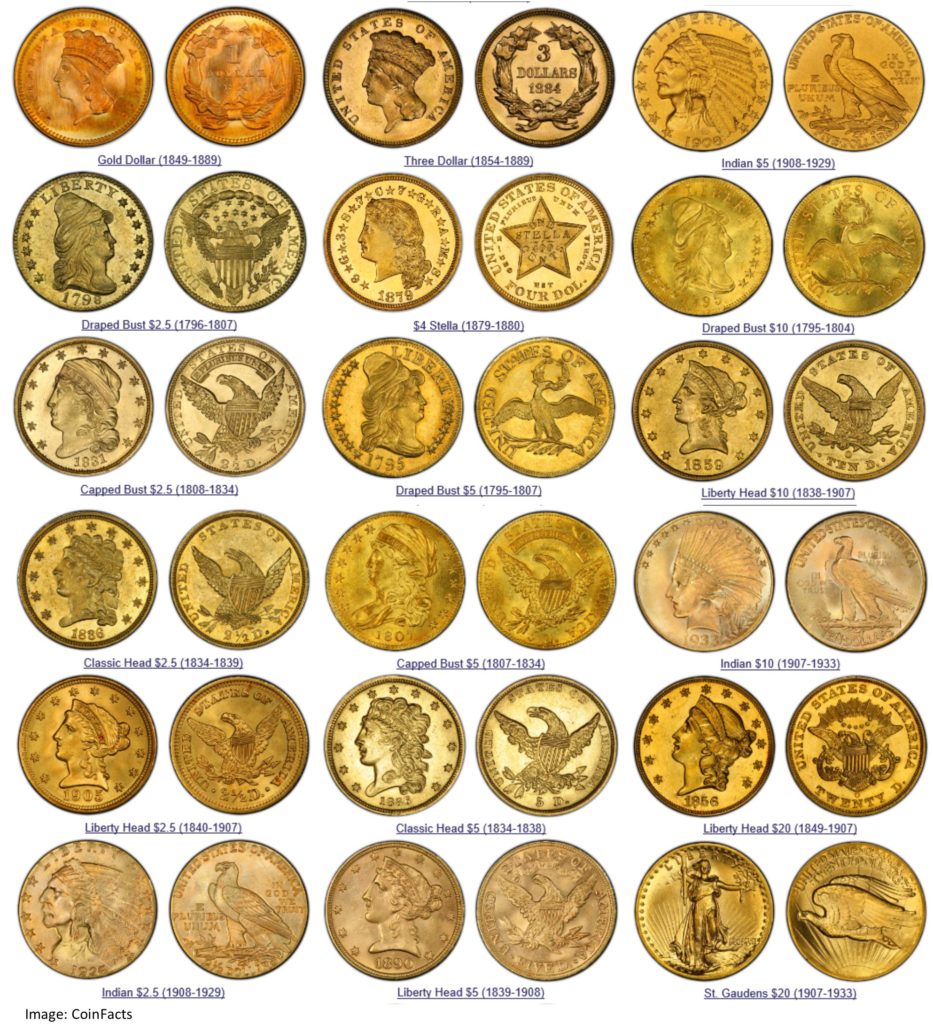 Things to Consider When Selling Coins
Understanding what you have is the key to selling coins.  Many resources can be found online that allow you to search for the coins that you have and their value.  On this site, you can search my page titled "Coins I Buy" which outlines some of the most collectible gold and silver coins.  Although the
"Coins I Buy" page is very extensive, there are many types of United States coins that are not included on it.  Just because a coin is not specifically listed on this site, that doesn't mean that I am not interested in taking a look at it.  Many times, I purchase coins that are not listed here when they are part of collections or estates.  I have also created a page of "Definitions" which is extremely helpful when trying to understand all of the coin collecting terminology.
Once you understand what coins that you have, you must decide if you would like to hold onto the coins due to sentimental value (or other factors) or if you would like to sell the coins.  Most often, coins are sold to private collectors (such as myself), at coin shows, at coin auctions, to coin dealers, to coin shops or stores, on EBay, and even on Craigslist.  Here is an outline of each:
Sales to Private Collectors
If you are on this site (and have read this far!) you know that I am a private collector.  Over 20+ years, I have obtained coins through inheritance, trades, purchases from other private individuals, coin stores, coin ships, coin auctions, coin shows, auctions, and just about every other way possible.  If you would like to receive an offer on your coin(s) you can contact me directly on my "Contact Page". Private collectors are able to offer the highest prices for coins for all of the reasons you will see below.
Selling to a Coin Shop
For years, the easiest way to sell coins was to visit a local coin shop.  Times have certainly changed with the expansion of the internet.  The problem with "bricks and mortar" coins shops is that they must operate like a business.  Coin shops have employees, rent, insurance, power bills, overhead, etc. and can never offer the fair market value of a coin.  Suppose you have a coin worth $1,000.  The coin shop can only sell it for about what it is currently valued.  So, in order to make a profit after all of their costs, coin shops can only buy coins for a fraction of the current value and hope that they are able to re-sell the coins to a collector.  At the end of the day, your $1,000 coin may only be worth $600 to a coin shop.
Selling Coins at Coin Shows
The vendors at coin shows are a mixed group.  You have coin shops with tables alongside coin dealers.  The same rules stated above apply to the coin shops at the coin shows.  In my experience, you are typically able to sell coins for more money to coin dealers.  I classify a coin dealer as an individual(s) without a bricks and mortar location, but, still profits from the purchase and sale of coins.  Since coin dealers are looking for a profit, they will not pay fair market value, but, due to the lack of much of the overhead that coin shops have, they will typically pay more than coin shops.
Selling Coins on EBay
I have purchased many coins over the years on EBay.  As a coin buyer and not a coin seller, I think that EBay is great.  The problem with EBay comes when you want to sell coins.  There are significant fees associated with selling coins on EBay.  There are listing fees, sales fees, shipping costs, etc.  If you sell a coin on EBay, you can expect for the coin to sell somewhat close to its actual value (most of the time), but, after you take out all of the fees and costs you are left with perhaps 75% of the sales price.
Selling Coins on Craigslist
Craigslist is a very good place to list coins for sale and I have bought many coins from Craigslist.  It is a free online marketplace and it is hard to complain about that.  If you decide to sell on Craigslist, here are a few things to keep in mind: (1) you will receive low-ball offers; (2) if a price is agreed upon, the buyer will often try to renegotiate the price when you meet in person; and (3) you have to keep your guard up – meeting a stranger with your prized $1,000 coin is risky so always meet in a safe place such as in the lobby of the police station.
Selling Coins at Auctions
There are a lot of great coins that sell at auctions.  Coin auctions are a great way to reach many collectors at once.  The main issue with coin auctions is that the auction house must make money (it is a business) and they do so by collecting fees from both the Buyer and the Seller. Each auction house is different but as a Buyer, I typically pay 10% more than my final bid as a fee to the auction house.  That means that I can only bid about 90% of what I think the coin is worth.  As a Seller, you will probably have to pay the auction house a fee in the 20% range based on the sales price.  If the buyer is only willing to pay 90% of the coins value and then the seller has to pay 20% to the auction house, you can see how the cash paid to the coin's seller can quickly start to disappear.
Wilmington Coin Services
Coin dealer, coin appraisals, U.S. coins, coin buyer, silver, gold, coin seller, trade coins, gold buyer, copper, silver coins, gold coins, sell coins
Sell Coins in Wilmington – Local Areas Served
Bald Head Island, Boiling Springs Lakes, Bolivia, Brunswick County, Burgaw, Carolina Shores, Carolina Beach, Castle Hayne, Caswell Beach, Downtown Wilmington, Fayetteville, Fort Fisher, Hampstead, Jacksonville, Kure Beach, Landfall, Leland, Myrtle Beach, Oak Island, Onslow County, Pender County, Raleigh, Rocky Point, South Brunswick County, St. James,  Southport, Supply, Surf City, Topsail Island, Wrightsville Beach, Wilmington, Winnabow
Consultations are by appointment only.  Please call 910-805-9616, use the Contact Us Page, or send an email directly to wilmingtoncoinshops@gmail.com