Peace Dollars
Source: My Coin Guides:  The Peace Dollar was introduced in 1921 as the successor to the popular Morgan Dollar series. The new design was created to commemorate the restoration of peace following the conclusion of World War I. A rendering of Liberty is on the obverse, while the reverse shows a bald eagle before the rays of the rising sun. Although the previous series tends to attract the most collector attention, Peace Dollars offer various challenges and highlights for the astute collector.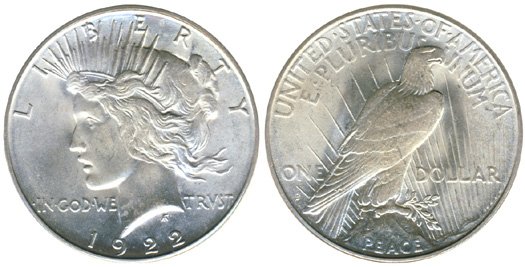 The first Peace Dollars were struck at the Philadelphia Mint in the final week of 1921 and released into circulation early the following year. The 1921 Peace Dollar was struck in high relief, which made for a stunning presentation of the design. However, this proved impractical within production and commerce, so the relief was lowered in the following year.
Production levels were generally high for the initial years of the series, as the United States Mint struck new silver dollars to replace those melted under the Pittman Act. The mintage levels dropped to the lowest level for the series with the 1928 Peace Dollar, when the last of the required coins had been produced. No silver dollars were struck for the following six years. The denomination made a brief come back in 1934 and 1935, which would be the final two years that silver dollars were struck for circulation.
Along with a few notable low mintage issues, the series is punctuated by numerous coins which are exceedingly difficult to find in gem condition. A number of issues struck at the San Francisco Mint suffer from weak strikes, heavy abrasions, and bag marks, which typically limit the condition. Finding high grade, attractive specimens for these issues is a genuine challenge and usually a costly undertaking.
A complete collection of Peace Dollars will include 24 different issues spanning from 1921 to 1935 and produced at the Philadelphia, Denver, and San Francisco Mints. Collectors with patience and an eye for quality stand to be rewarded in their pursuit of this important series.