Franklin Half Dollars
Source: My Coin Guides:  The Franklin Half Dollar was issued from 1948 to 1963. The coins feature Benjamin Franklin on the obverse and the Liberty Bell on the reverse. In a way, the introduction of the series represented the end of an era. The half dollar was the final circulating coin design to make the switch from a depiction of the allegorical Liberty figure to a portrait of an actual person.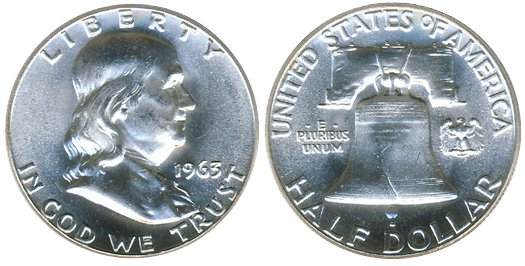 The design for the series was created by John R. Sinnock, the Chief Engraver of the US Mint from 1925 to 1947. The obverse portrait was modeled after a bust by 18th century sculptor Jean-Antoine Houdon. The inscriptions include "Liberty" above, "In God We Trust" below, and the date to Franklin's right.
The reverse of the coin features an image of the Liberty Bell, patterned after Sinnock's design for the 1926 Sesquicentennial Commemorative Half Dollar. Subsequent credit was given to artist John Frederick Lewis, since Sinnock had modeled the design after one of his sketches. The reverse also includes a diminutive image of an eagle to the right of the bell. The unusual appearance is the result of the legal requirement to place an eagle on the reverse of the denomination. Inscriptions read "United States of America", "E Pluribum Unum", and "Half Dollar". The mint mark, when present, is placed above the Liberty Bell.
Like the other coins of its era, the Franklin Half Dollars had a composition of 90% silver and 10% copper. Each coin has a weight of 12.50 grams, diameter of 30.6 mm, and a reeded edge.
The series concluded prematurely in 1963, following the assassination of President John F. Kennedy. Under existing law, circulating coin designs were required to be used for at least 25 years before they could be changed. A bill rushed through Congress both overruled the existing law and provided for a new design to memorialize Kennedy starting in 1964.
Comprising only 35 different date and mint mark combinations, assembling a complete set of Franklin Half Dollars is an attainable goal. The true challenge of the series is assembling a collection of fully struck coins in gem mint state condition. Due to certain characteristics of the design and aspects of producing the coins, there are several notable conditional rarities.