Source: My Coin Guides:  The Barber Half Dollar was introduced in 1892 along with the similarly designed dime and quarter dollar coins. Featuring the basic design of Liberty on the obverse and an eagle on the reverse, the series was produced until 1915, after which it was replaced by the popular Walking Liberty design. The Barber Half Dollar is traditionally one of the less popular series to collect, but has been attracting more attention recently and original pieces have become increasingly difficult to find in any grade.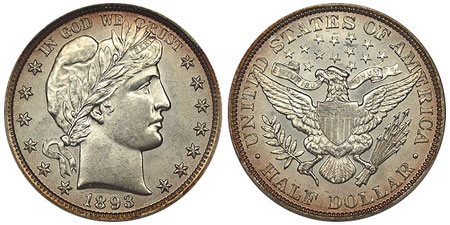 The Barber Half Dollar shares the same story as the two other smaller denominations, the Barber Dime and Quarter. Designed by Charles E. Barber, it was the result of two contests that both failed with no direct result. The first contest included ten well-known American sculptors, which unbelievably did not include Augustus St. Gaudens, one of the most popular sculptors of the time. The second contest was public, with well over 300 different designs submitted. Unbelievably here as well, none of the submitted designs was approved by the United States Mint.
Finally, the task was given to Charles E. Barber, then-current Chief Engraver of the US Mint. In his Encyclopedia, Walter Breen gives a short but clear point of view as to why he was eventually chosen to design the coins:
"One of the judges [of the public contest] was Mint Engraver Charles E. Barber (as notorious for opposition to outsiders' coin designs as for dullness), none of the 300 entries won a prize…The new Mint Director, Edward O. Leech, denounced the competition idea as a wretched failure, and turned over the redesigning task to Barber, who had wanted it all along."
Barber's obverse design features a bust of Liberty wearing a Phrygian cap with the word LIBERTY appearing on the band. The motto IN GOD WE TRUST appears above, with 13 stars surrounding, and the date below. The designer's initial "B" is placed on the truncation of Liberty's neck.
The reverse design features an eagle with outstretched wings. One claw clasps an olive branch and the other clasps arrows. Thirteen stars appear above the eagle. A scroll within the eagle's beak contains the motto E PLURIBUS UNUM. Surrounding the entire design are the inscriptions UNITED STATES OF AMERICA and HALF DOLLAR.
The Barber Half Dollar experienced a few minor modifications throughout the years to improve the design, but they were very minor and not noted by collectors and dealers until years after the conclusion of the series. As such, not much research has been done on possible transitional varieties, and in general varieties for this series are widely unknown and virtually uncollected.